Two CAF officials- 𝐄𝐦𝐦𝐚𝐧𝐮𝐞𝐥 𝐍𝐞𝐰𝐭𝐨𝐧 𝐃𝐚𝐬𝐨𝐛𝐞𝐫𝐢 Stadium Inspection Officer and 𝐑𝐚𝐧𝐝𝐚 𝐌𝐨𝐡𝐚𝐦𝐞𝐝 𝐄𝐳𝐳𝐞𝐥𝐝𝐢𝐧 𝐈𝐛𝐫𝐚𝐡𝐢𝐦 𝐌𝐞𝐭𝐰𝐚𝐥𝐲 Travels and Accommodation Officer- have today Saturday 28th July successfully conducted inspection on the recently unveiled Southern Arena in Bo City, southern Sierra Leone ahead of the preliminaries of the TotalEnergies CAF Club Champions League in August.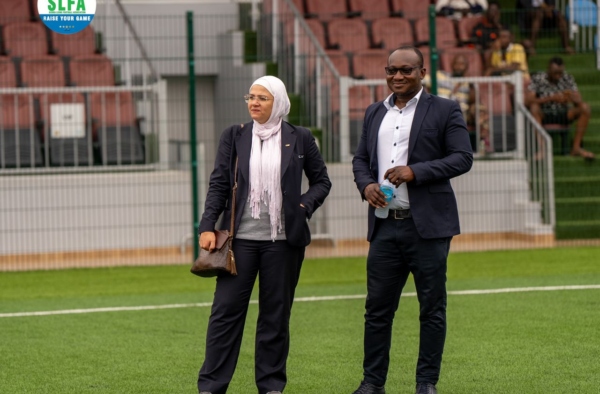 The inspection exercise took aim at the Stadium, Hotels, and other relevant facilities within the City as the 2022/23 Sierra Leone Premier League Champions- Bo Rangers- bid to host their CAF Champions League preliminary home match against LISCR FC (Shipping Boys) of Liberia in August, at their newly constructed stadium.
In accompaniment of the two CAF officials during the inspection were; SLFA's Head of Competitions Sorie Ibrahim Sesay, Safety and Security Manager Mohamed Bowen Freeman and Protocol and Event Officer Alusine Aiah Kabba.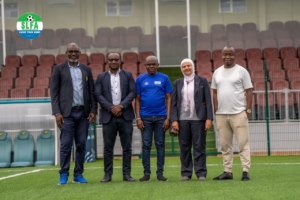 The Chairman of Bo Rangers and owner of the Southern Arena Babadi Kamara also witnessed the exercise and keenly took note of areas requiring urgent improvement.
The CAF delegation have successfully done the field work and have collected the necessary picture and video samples for further assessment in Egypt to be followed by a final decision.