Bo Rangers Lift Sierra Leone Premier League 2022/23 Champions Trophy
Bo Rangers Football Club have today Saturday July 22 been officially crowned as champions of the Sierra Leone Premier League (SLPL) 2022/23 season in front of their home crowd at the recently unveiled top notch Southern Arena, in Bo City.
The southern giants lifted their second successive glittering championship trophy with an outstanding record lead of 19 points following a convincing 3:0 victory over Bai Bureh Warriors in their final league fixture.
The crowning was jointly done by the President of the Sierra Leone Football Association Thomas Daddy Brima and the Chairman of the Premier League Board Allieu Vandi Koroma who officially handed the prestigious trophy to the Rangers Captain Saidu Bah Kamara.
Also present at the ceremony and took part in the distribution of medals and other trophies were SLFA Vice President 1 Harold Nat-Johnson, Acting General Secretary Mohamed Benson Bawoh and the newly elected Southern Region Football Association Chairman Joseph Benedict Mbogba.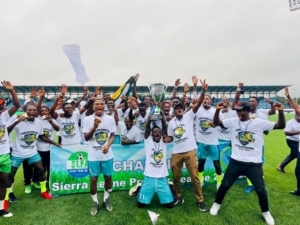 The Champions Bo Rangers, who are currently on a record of 34 games unbeaten run in the SLPL, have been successfully engaged to compete in the 2023/24 CAF Champions League which will be club's second consecutive appearance in Africa's biggest club football competition.