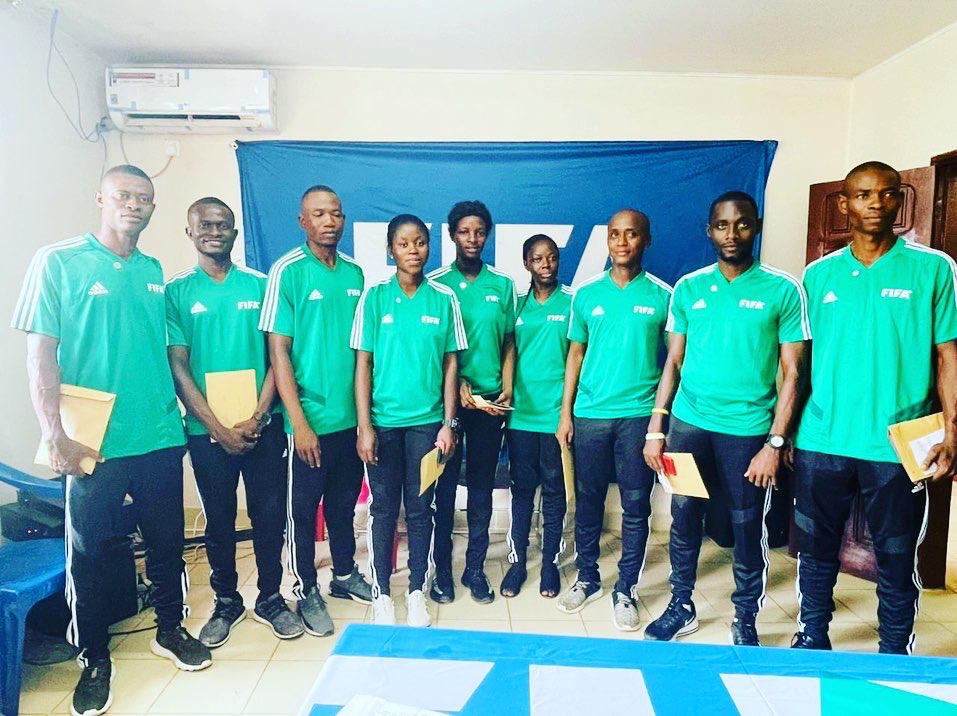 The Sierra Leone Football Association has today, at the federation's secretariat, officially unveiled nine Sierra Leonean referees (3 women and 6 men) who, based on their hard work and high level of professionalism, have been successfully selected in the 2022 List of FIFA International Referees.
They include;
Referees- Alhaji Musa Kabia, Mohamed K. Koroma, Humu Marrah and Swahib Bangura.
Assistant Referees- Precious A. E. Amara, Ibrahim Bah, Micheal Conteh, Fatmata Mansaray and Musa Allieu Sandy.
Members of the FIFA list are qualified to officiate at international level and are entitled to wear a FIFA badge on their uniform for the year in which they are listed.
Presenting the FIFA badges and other regalia to the referees, the SLFA Vice President 1 Harold Nat-Johnson congratulated the match officials "for such a remarkable achievement in global football".
He expressed great delight about "the rapid growth of female referees in Sierra Leone" in the last few years, noting that, "the country did not record any FIFA female referee for over two decades until last year when we had one in the person of Precious A. E. Amara. This year we have three and hope to see more women in the list in subsequent years".
The Vice President 1 assured them of the Federation's unflinching support towards the welfare and growth of referees in Sierra Leone, noting that, "We shall ensure more courses are conducted across the country at all levels and also see that our trained and qualified referees are regularly engaged professional matches both locally and internationally".
Also present at the unveiling ceremony were the SLFA Vice President 2 Alie Badara Tarawallie, Executive Committee Members Brima Jalloh and Abdul Osman Turay, General Secretary Christopher Kamara, Head of Referees Department Mohamed Bowen Freeman, Chairman Referees Association Alhaji Sanusi Rashid and former Acting Chairman of the Referees Association M. A Sesay.